Welcome to the Arma3: Life Wikia
Arma3: Life Wikia
ArmA 3 Life is a modification for the game ArmA 3. It immerses players into a real world simulation that is player driven and has the ability to adapt to choices the players make. The mod allows players to do what they want, when they want, how they want. You can become a medic, part of a gang, start your own company, join the Department of Justice or the Police Department, the possibilities are endless.
How it began (from Zannaza)
I was on a holiday at Italy when Caiden sent me some pictures of a car he made himself and a cellphone he worked on (He showed me pictures through phone that I still have on my mobile) This is actually the First custom car ever made in the ArmA community, this car is more broken than Arma itself;
https://gyazo.com/3b0a2cad41ec667aa1764f8393452691
https://gyazo.com/6db257ca8310ba0fdaadd6d75ce8210f
https://gyazo.com/4fbbef153ab3dcae55a4d3c3b3794f13
Haha, got a few more, even personal holidays pictures of 2013 are in there, haven't seen this pictures for a while haha :P But yeah, he wanted to join another community that had 2k members, and he was like "wow, this community has 2k members, We would never get as far as that", and when we did our breakthrough, I told him again; "and you said we wouldn't hit the 2k?" haha.
Brief Overview
Life Studios was formed in November 2013 by Zannaza and Caiden and stayed in Closed Beta all the way until September, when it finally opened up to a tide of people who signed up to play the original ArmA 3 Life server. In February of 2014 things took a turn for the worse when Melek decided to leave the community which resulted with the community taking a substantial blow. However in March the community finally got rid of Caiden, which allowed Life Studios to take a huge step forward and develop much more throughout the Spring. And now we are here, where you are part of the story.
Present
As of now, Zannaza and Chris Stark are both Project Leads with Zoo as the Project Manager who are in charge of the community as a whole. These three are the people pushing both the community as a whole and the server forward. With them they have a small group of dedicated Executive Admins who help with the day to day running. These individuals include Roy DeSoto and Steve Macklin. The Staff Team's structure is as follows: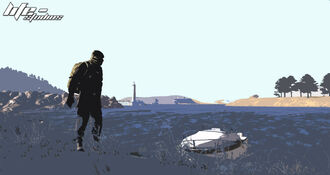 Support Team/Senior Support/Support Advisor

Moderator/Trial Staff

Administrators

Senior Administrators

Head Administrators

Project Manager

Project Lead
More Wiki Pages
Erie County Fire & EMS Department